Pin It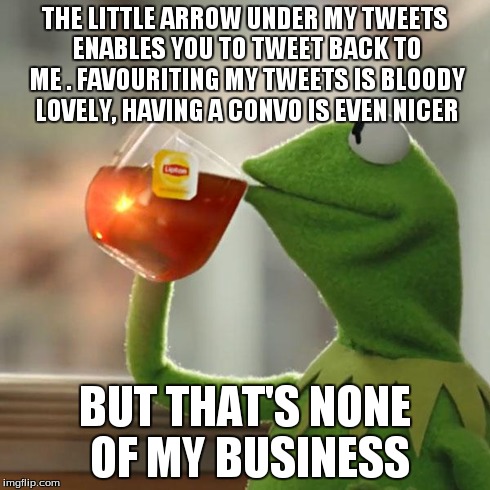 This is my first blog post for while as my auntie passed away recently after 9 years of cancer and then my fat arse squished a book in between the keyboard and screen of my Chromebook which then shattered.Whilst feeling a bit meh about blogging, I've been using social media a bit more than I usually do, but as always Twitter is my first port of call in the mornings, once me and 3 kids have battled for first use of the loo and argued over who gets the last of the cereal/milk/bread.Once I've settled down on the sofa, I sit with my phone whilst the kids have their telly shows on for an hour.We're up at 6ish during the week, as my girls have a 45 minute walk to their school ( a long story, one I've yet to get round telling).Twitter was the first place I talked to many bloggers on social media when came to blogging, and I mean talk.Proper chin wagging, debates, discussions etc.Lately it has become a big link dumping ground, so much so I did a big social media clear out last year (for my sins I might add).It's for the me like talking into a big wide abyss.Then I have noticed a trend on people favouritng my tweets.Which is great if you want to come back to read something I've posted a link too.But I haven't done that in aaaaages.I tend to tweet other people's posts rather than my own, because I genuinely think they are a good read.So why do people like favouriting my tweets?
So this week I decided to go back to greeting the day on Twitter.It's daft I know, but it was the first thing I could come up.So here the greeting tweets this week:
Well hello Monday.I'm approaching you with extreme caution today *removes all packaging carefully*

— Aly Hodge (@BugBirdBee) November 10, 2014
4 favourites and one interaction.
Tuesday I went on a rant about fireworks and Guy Fawkes.Lots of interaction but again lots of favouriting of tweets.
And then this:
Heavy rain forecast between 2 and 4.Excellent, I'll be looking forward to the walking the school run this afternoon then.Said no one ever.

— Aly Hodge (@BugBirdBee) November 11, 2014
Why? Rt and say ha! that's funny or similar, why favourite?
Then came Wednesday.
Well Hello Wednesday!, you cheeky day of the week.The day of humps, mid-week sneaky tipples and chocolate binges *chest bumps*

— Aly Hodge (@BugBirdBee) November 12, 2014
Pulling teeth or what? One favourite and one interaction.
Now I'm claiming to be a comic genius, or feeling needy but I just wonder why people feel that a favourite quantifies a response?
Thursday, I was feeling premenstrual on top of everything else and I may have lost after I posted this:
What's that coming over the hill, is it Friday, is it Friday?

— Aly Hodge (@BugBirdBee) November 13, 2014
I had on this day tweeted a few who had said good morning or had asked something.Their response to my tweets? A frigging favourite, not a reply, thank you or how are you?
So I tweeted this:
The little arrow under my tweets enables you to tweet back to me.Favouriting my tweets is bloody lovely, having a convo is even nicer

— Aly Hodge (@BugBirdBee) November 13, 2014
Oh the irony! 3 favourites and these people never replied or retweeted my tweet.At this point I have to say I was in hysterics.Kip, who is only 12 and yet to undergo the modern-day rite of passage that is social media, was in fits of laughter too.
And hence forth I started a huge out pouring of tweets from OTHER PEOPLE *shock horror*.Here are my favourites for different reasons, guilt, I have weird followers ( weird is good) and those who never realised how rude it was.
@bugbirdbee *resists urge to fave that tweet* you're dead right though. Odd I think.

— Emily D (@emilyandmore) November 13, 2014
@bugbirdbee it sort of "I'm acknowledging you've replied to me, but I don't want to talk"

— Emily D (@emilyandmore) November 13, 2014
@bugbirdbee it's like the like button on Facebook. It makes social networks lazy and less about networking

— Cardiff Mummy Says (@CardiffMummy) November 13, 2014
@mummylimited @vwallop @bugbirdbee Yes, I only use for useful tweets I want to go back to (with a link for eg)

— Heather Young (@HeatherYoungUk) November 13, 2014
@bugbirdbee yes! I'm astounded by the amount of people who have twitter, tweet stuff and yet never reply to anyone.

— Emily D (@emilyandmore) November 13, 2014
@ChelseaMamma @bugbirdbee I favourite random tweets, all sorts of reasons, often that it had a link I want to read later

— Tattooed Mummy (@tattooed_mummy) November 13, 2014
@bugbirdbee @tattooed_mummy @ChelseaMamma if I'm at work I will often fave a bunch of tweets as nod of "ha"/"agree"/etc but can't contribute

— Jem (@jemjabella) November 13, 2014
@HeatherYoungUk @mummylimited @bugbirdbee but Twitter is about chatting, it kills interaction.

— Victoria Wallop (@vwallop) November 13, 2014
@bugbirdbee @mummylimited or Ha! Or Yes! Or similar. It's almost insulting I think that they can't be bothered to reply.

— Victoria Wallop (@vwallop) November 13, 2014
This one resonated with me the most:
@mummylimited @bugbirdbee that is so true! I thought this the other day. Sometimes people don't even reply once I've actually tweeted them!

— Amy (@smallthingblog) November 13, 2014
The tweets about #favtweetgate went on into the afternoon and I couldn't reply much during the day.Later in the evening I saw this tweet:
On the blog today – why is Twitter so flippin' antisocial? http://t.co/fRpyrNkN9V

— Sally Whittle (@swhittle) November 13, 2014
Sally from Who's The Mummy  blog post approaches a different subject about Twitter.The constant link bombing, Pinterest tweets *coughs and deletes*, photos to Instagram (maybe IG, FB and Twitter is over kill?), rt's of comps (unfollowed and not followed  many on that basis), Triberr and automated posts (I've left Triberr and I haven't blogged lately to post links, and I'm a bit meh about #fromthearchives #tweetoldposts).
Like Sally, I'm not here to say what you're doing is wrong but look back at your Twitter feed and judge whether you would follow yourself?
Mid-writing this post I announced on Twitter that despite sounding like a dick, I'm going to write my #favetweetgate post.After a flurry of tweets, Jax sent me this:
RT @HolSmale: Mum asked what a Twitter favourite "meant", so….. GOOD LUCK MUM. pic.twitter.com/T1dIr9cOII <<@bugbirdbee here you go.

— Jax Blunt (@liveotherwise) November 14, 2014
And don't get started on auto DM's to follow you on Facebook!
In short if you're using a social media network, use it.Don't use it to lure people elsewhere.Chances are I am already following you there anyway.
Am I being needy? Should I feel flattered that people love my tweets so much they need to put them in virtual storage to peruse over later? (NOTE:I have noticed some people copy and paste them to use on their own timeline to make it look like they tweeted first *rolls eyes*). Should I rant more on Twitter? Why do people like favouriting my tweets?